Addictive power, unrivalled exhilaration and a true drivers sports car, the Plus Six heralds a new era of performance and refinement for the Morgan range.
The Morgan Plus Six is, unquestionably, the most dynamically capable Morgan ever produced. The iconic Morgan silhouette is underpinned by an all-new platform and industry leading powertrain technology, every component has been refined or redesigned to create an all-new model.
THE LATEST BMW POWERTRAIN
Continuing Morgan's successful two-decade partnership with BMW, the Plus Six features the latest generation BMW Turbo six-cylinder inline engine. This delivers 335 bhp, 369 lb/ft of torque, and enables the Plus 6 to travel from 0-62mph in just 4.2 seconds.
The use of BMW's latest powertrain technology not only delivers a more exhilarating, high performance sports car, it also provides gains in terms of fuel consumption and an overall cleaner engine.
An emissions figure of 170 g/km and a combined miles per gallon figure of 38.2mpg establishes the Plus Six as one of the most fuel-efficient vehicles within the Morgan range.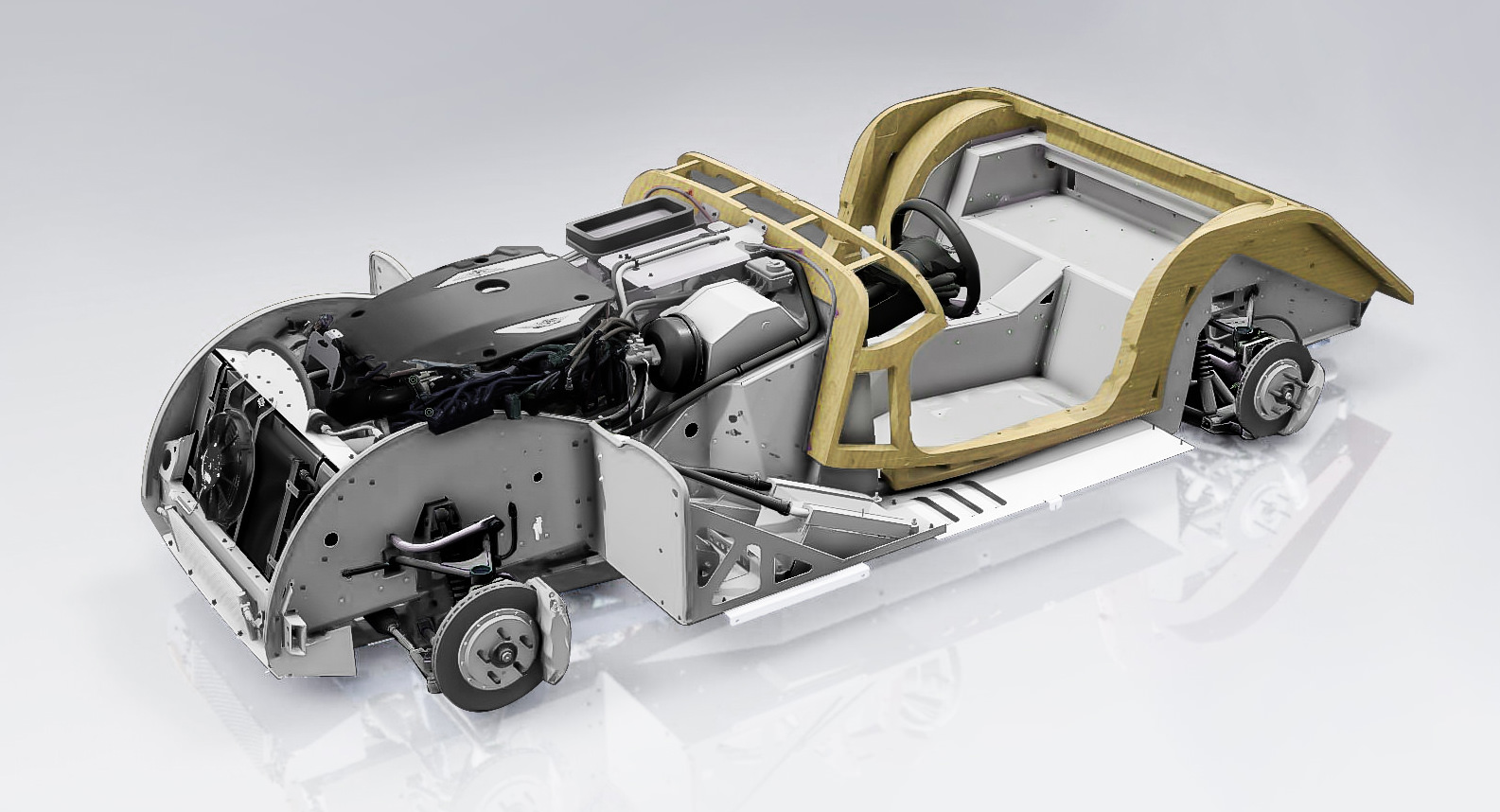 The Plus Six is defined by the industry leading technology and engineering encompassed beneath it's recognisable exterior.
Most notable is the all-new CX-Generation aluminium bonded platform that underpins the Plus Six. Designed and developed for use in Morgan's high-performance models, the CX-Generation platform features a 100% increase in torsional rigidity over the previous aluminium platform utilised by Morgan.
Lightweight characteristics are an integral ingredient to any British sports car. The CX-Generation platform introduces a range of benefits at no extra weight penalty, in total the structure weighs less than 100kg and retains the same wheelbase as the previous generation aluminium platform vehicles.
AN INSTANTLY RECOGNISABLE SILHOUETTE…

Maintaining Morgan's philosophy of lightweight craftsmanship and performance, the Plus Six weighs just 1,075kg in total, and features a greater number of occupant benefits and technology, whilst retaining the celebrated design synonymous with Morgan cars.
A culmination of hundreds of design changes and improvements are made possible thanks to the new processes and functionality the CX-Generation platform introduces to Morgan.
Upon engaging with the vehicle, uplifts in material quality, fit and finish, aesthetic detailing and the engineering aptitude that has been applied to each component are immediately apparent. The Plus Six completely re-positions Morgan's flagship product and with it, the brand itself.
Like every Morgan, it is important that the vehicle presents the client with a flexible canvas to impart their own personality upon. The Plus Six offers greater levels of customisation than ever before
HARD TOP
A newly designed, lightweight composite hard top takes inspiration from 1960s 'road racers', and is available as standard on all Plus Six Touring models.
Transforming the model to achieve an aesthetic to that of a coupe, the newly designed hard top is completely removable and provides owners with increased functionality and comfort whilst touring.  Each of the First Edition Plus Six models will be supplied with a hard top.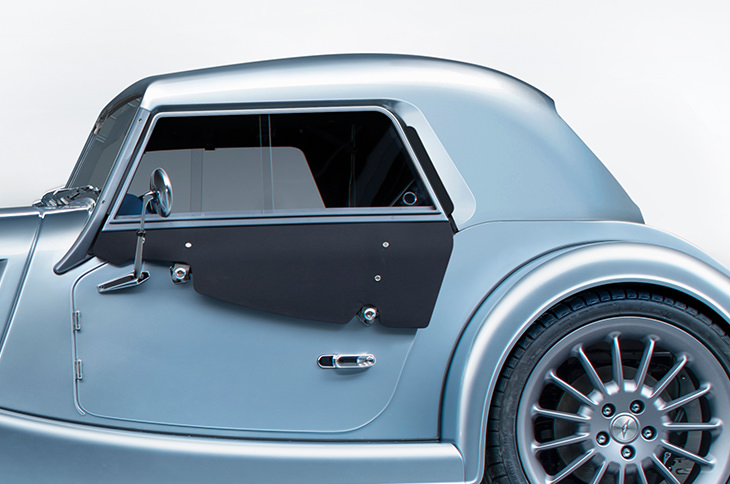 REIMAGINED INTERIOR
The Plus Six features an all new, more driver focussed and refined cockpit. A reimagined interior offers greater levels of personalisation than any Morgan previously, whilst cleverly incorporating technology throughout. A display screen is neatly positioned within the driver's field of vision, subtly embedded into the dashboard with an unlimited level of wood and colour combinations. Sculpted doors incorporate all new puddle lighting, central locking mechanisms and hidden speakers.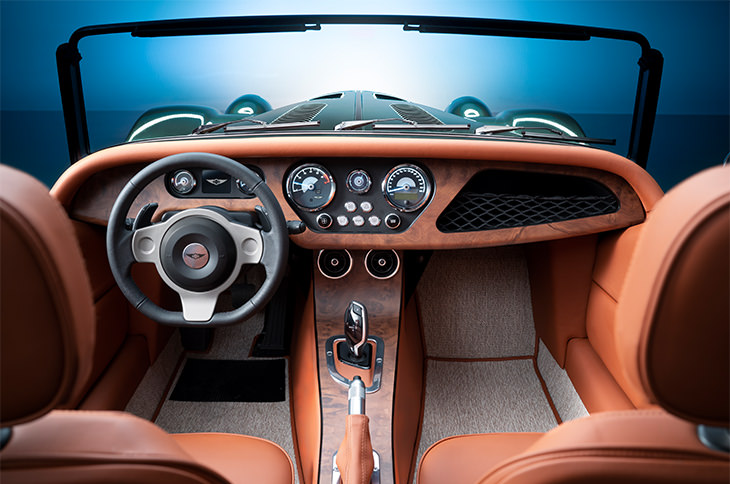 The First Edition Emerald Plus Six provides an updated twist on one of the most celebrated Morgan colour combinations ever. A metallic green paint finish offers a more contemporary twist on British racing green, whilst rich tan soft grain leather from Morgan's premium range features heavily on the interior, complimented by a matte finish walnut dashboard and centre console. The exterior highlights of the First Edition Emerald Plus Six are the body coloured composite hard top, as well as the First Edition Frozen Grey pack that encompasses the 19inch Plus Six wheels, a-posts, stone guard and side screen surrounds. The all-new seats feature leather wrapped seat backs and quilted twin needle stitched seat centres. 

FIRST EDITION – MOONSTONE
The First Edition Moonstone Plus Six offers a modern twist on Morgan's iconic silhouette. It's ice blue metallic exterior paint colour matches perfectly alongside the new 19inch Plus Six wheels finished in frozen grey. Additional frozen grey details include a-posts, stone guard and side screen surrounds, all comprising together to provide a contemporary aesthetic. A body coloured composite hard top offers year round usability and transforms the model into a coupe, whilst driving spot lights give the front an even more purposeful look. The dashboard is completed in body colour, nicely contrasting with a gloss black centre console that flows through the centre of the new seats and matches the mohair hood pack. Trimmed in dark blue soft grain premium leather, the new seats feature square box stitch centres and body colour seat back tailoring.

TECHNICAL SPECS
| | |
| --- | --- |
| Engine | BMW 2019 B58 TwinPower Turbo inline 6-cylinder engine |
| Gearbox | 8-speed Automatic with Sport, Plus and Manual shift modes |
| Max Power | 250kw (335 bhp) @ 6,500rpm |
| Max Torque | 500Nm (369 lb/ft) |
| Performance 0 – 62mph | 4.2 seconds |
| Top Speed | 166mph (267 kph) |
| Combined MPG | 38.2mpg (7.4L/100km) |
| Combined Co2 | 170g/km |
| Dry weight | 1,075kg |

Privacy Notice | Terms | Contact Us | Hosts
© 2019 Paterson Group Scotland Ltd T/A Revolutions
Company Number SC637393 - Bute House, Arran Road, Perth, PH1 3DZ
Hosted by Sure Communication (sur.co.uk) Ltd