May 31, 2017 5:09 pm
Leave your thoughts
Clean Sweep at Brands Hatch!
A fantastic Morgan weekend that saw the Morgan Challenge at Brands hatch for a championship round and annual MSCC round.
In the championship race, the grid was split into two races with the faster classes (A,B and H) racing together and the slower classes (R,C,D and E) racing together. Russell Paterson was second overall in the A,B and H race whilst Tim Parsons won the R,C,D and E race outright, his first outright win! Tom Dailey also won his class with fastest lap and a new lap record.
The three awards available in the MSCC race were:
Outright race winner, handicap winner and techniques trophy winner.
Russell Paterson won the race outright in 99 OK. The newest car in the Revolutions racing fleet, generously supplied by Kennedy Care group.
Tim Parsons won his class in his +4 Supersport and the techniques trophy.
Elliot Paterson was second overall, won his class and won the handicap race.
Tom Dailey won his class and recorded another class fastest lap and lap record.
The cars never missed a beat, brilliant all weekend due to excellent preparation from Paul our race technician. A full team effort.
A perfect weekend for the team!
A huge thank you to all of the sponsors, without whom we couldn't do what we love to do.
Kennedy Care Group
Bivrost
Aurora Spirit
Highland Smoked Salmon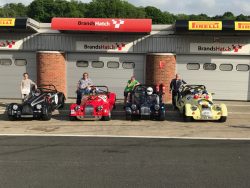 Categorised in: News
This post was written by revolutions